Three alpine mountaineers who were attempting to climb the east face of Howse Peak in Banff National Park are believed to have been killed in an avalanche, Parks Canada said Thursday.
The three men, who Parks Canada said were professional mountain athletes, were reported overdue on Wednesday. Officials responded by air and "observed signs of multiple avalanches and debris containing climbing equipment."
"Based on the assessment of the scene, all three members of the party are presumed to be deceased," Parks Canada said in a media release.
Global News has confirmed the three men reported missing in the area are David Lama, Jess Rosskelley and Hansjörg Auer, according to Lama's manager, Florian Klinger.
Lama is described as a mountaineer, climber and free spirit on his website.
He describes his willingness to take risks in his adventures as a reflection of "complete conviction of my actions and gives my mountaineering a great personal value."
Parks Canada said the mountain the men were climbing was very remote and every peak and valley is subject to different weather conditions. It's believed the climbers began the ascent up the rockface on Tuesday. Visitor safety specialist Stephen Holeczi said officials couldn't speculate what the conditions were at the time they started.
Holeczi said officials don't know exactly when the avalanche happened, but said it's estimated to have been a Size 3.
Due to dangerous conditions at the scene, recovery efforts weren't possible on Thursday.
"Precipitation and strong winds in the forecast will result in a rising avalanche hazard in the area," the agency said.
"The east face of Howse Peak is remote and an exceptionally difficult objective, with mixed rock and ice routes requiring advanced alpine mountaineering skills."
Holeczi said search crews are waiting for a "good weather window" when it comes to their recovery mission, as they need to assess all the different mountain hazards, the biggest being avalanches in this area.
"Hopefully, from there do any work to mitigate some of those hazards down to an acceptable level so that we can safely insert rescue crews to the site," Holeczi said.
He said there is no exact timeline on when the rescue crew may be able to get into the site. The avalanche site is about a 20-30 minute flight from the Icefields Parkway, Holeczi said.
Messages, tributes from climbing community
Messages about the three climbers began pouring in on social media on Thursday, including from outdoor organizations.
In a statement on its Facebook page, The North Face said Lama, Rosskelley and Auer are members of its Global Athelete Team.
"They are missing, and local search and rescue has assumed the worst," the post reads. "We are waiting to learn additional information as the search mission continues."

READ MORE:
Strong winds, heavy snowfall boost avalanche risk west of Calgary

The Karakoram Club also said on Twitter that after being presumably caught in an avalanche, there was "no trace found of the three climbers after the first search and rescue flight."
"Fingers crossed for some positive news," the club said.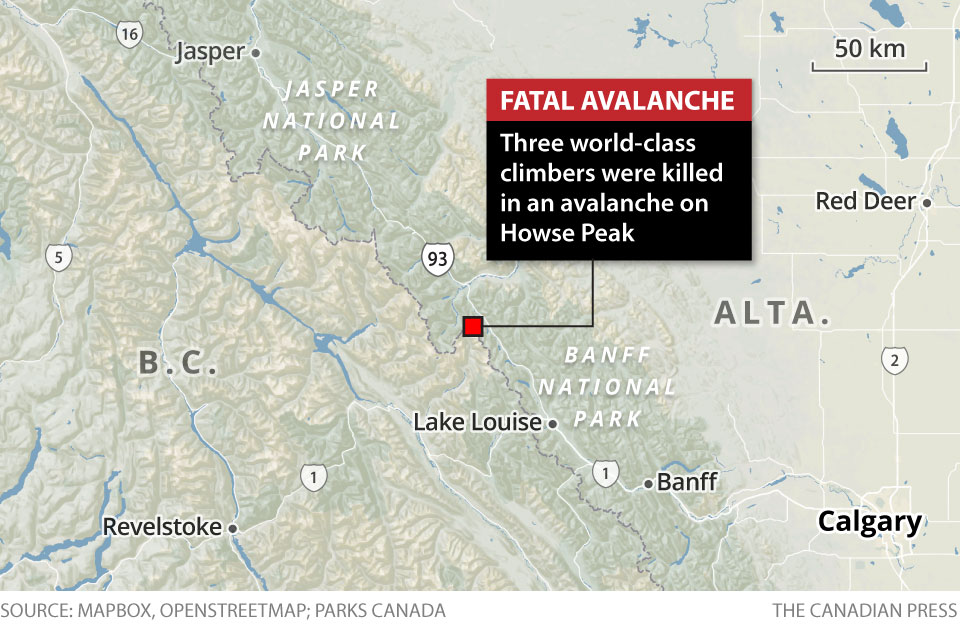 Parks Canada said an investigation is underway.
The federal agency said in a Facebook post on Wednesday that a portion of the popular Icefields Parkway highway, which stretches 232 kilometres through the national park, would be closed as of 2 p.m. Thursday for avalanche control work as "significant precipitation" was forecast.
The stretch between Parkers Ridge, south of the Columbia Icefields, to the Saskatchewan River Crossing would be closed, Parks Canada advised.
"Some slopes still hold enough snow that, when combined with the 30 millimetres of new precipitation in the forecast, will create an amplified risk of avalanche," Parks Canada said.
WATCH BELOW: Three mountaineers are presumed to have been killed in an avalanche in Banff National Park
The closure was scheduled to be in place through to Saturday afternoon as crews are set to complete control work and road cleanup on Friday and Saturday.
"All day-use areas and viewpoints along the Icefields Parkway between Lake Louise and Saskatchewan Crossing and between Jasper and Parkers Ridge remain open as scheduled," the agency said.
An area closure was also put in place for the Howse Peak area, including Waterfowl Lakes and associated trails, Parks Canada said,
"We implemented the area closure so that the visitor safety department can have the full latitude to do what they need to do without worrying that other people have gone into there to perhaps attempt their own rescue or take photographs," incident commander Shelley Humphries said.
Humphries said the closure will be in place until visitor safety determines they no longer need it.
A snowfall warning was issued on Thursday afternoon for Banff and Jasper national parks, with Environment Canada forecasting 10 to 15 centimeters of snow through to Friday morning.
"Rapidly accumulating snow will make travel difficult," Environment Canada said.
WATCH BELOW (March 2019): Skiers and climbers are being asked to stay out of the backcountry near Field, B.C., as Parks Canada does avalanche control work. Jayme Doll reports.
© 2019 Global News, a division of Corus Entertainment Inc.