Power 97 is proud to support Tim Hortons Camp Day on Wednesday, August 12th, 2020.
Camp Day is the largest annual fundraiser for the Tim Hortons Foundation Camps – which have gone virtual for 2020. It's the one day each year when Tim Hortons restaurant owners donate 100% of their hot coffee and iced coffee sales to Tim Hortons Foundation Camps who send local youth from disadvantaged circumstances to one of seven Camps across North America.
For the fifth year, guests have the opportunity to donate $2 and receive a Camp Day bracelet available in four vibrant colours; red, blue, green and orange.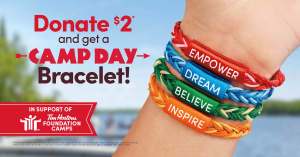 Guests can round up their order, with the balance of the dollar going towards the Tim Hortons Foundation Camps. Guests can also most a one-time or monthly donation online any time at timscamps.com.
Please note: For August 12th only, redeeming coffee and iced coffee Rewards will be paused, but Points will still be earned for each visit.