UPDATE: This show has been rescheduled. Hang on to your original tickets, they will be honoured when a rescheduled date is announced.
For more information and updates on concerts and shows at The Burton Cummings Theatre and Bell MTS Place please visit: https://www.bellmtsplace.ca/true-north-sports-entertainment-events-covid-19-updates/
Power 97 welcomes Milky Chance to The Burton Cummings Theatre on Thursday, November 25th, 2021.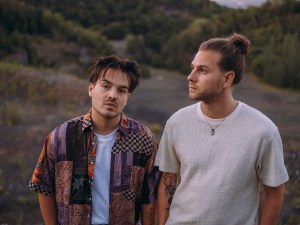 Many dreams of the German musician folk usually fall flat at the starting line, if you were to look at how most fair against their other countrymen in history. You have that metal wall of ​Rammstein​ that sticks in front of most onlookers living outside of their borders, oh and there's ​Kraftwerk​. Who would have imagined a mainstream global success story for two young, German men from a fairly small industrial town named ​Kassel​ having a hefty number of Australians 14,000 km's away booking tickets to see them perform live every time they come to town. It's a story of two unlikely lads, but it's also one of two incredibly talented lads that created something different that separates them from any other popular artists you know.
Milky Chance ​are ​Philipp Dausch​ and ​Clemens Rehbein.​ They met at school, growing-up listening to ​Bob Marley​, ​Hendrix ​& ​Red Hot Chilli Peppers​ to name but a few. Getting together to make music in the early days was less about plotting global success, it was instead more about having fun. One of their first songs, however, quickly changed things – It was Stolen Dance.​ More specifically it was a unique sounding folktronica song that spanned across most commercial & alternative radio playlists across the globe. That moment they uploaded it to ​Youtube​ was about 6 yrs ago, but the fact it's ​one of the most Shazamed songs of all time​ tells you all you need to know.
Like a Darwinian success story, Milky Chance quickly adapted to their new found surroundings & pulled together an album & was touring the world within months. That debut album, Sadnecessary, that boasts other successful singles ​Down By The River​ & Flashed Junk Mind, went on to become a multi-platinum record in various countries that saw this German duo play on US late night shows like ​Fallon,​ ​Kimmel​ & ​O'Brien​ and garner every major worldwide press outlet that had an interest in music.
Fast-forward a few years to 2017 & the band launched their second album​ Blossom​. This album faced the oh-so-common question of whether to keep to what brought success or develop into something that changed with the winds of the current chart trends. The band chose to hold strong to what made them so popular, but adding far more layers in quality learned on the road. Lead singles ​Cocoon​ & ​Doing Good​ embodied their approach & it was a hugely successful album, amassing hundreds of millions of plays across streaming platforms, and more Gold & Platinum records came tumbling in worldwide, and they went on to play to 241 shows across 41 countries.
After the success of ​Sadnecessary​ and ​Blossom,​ their third album ​Mind the Moon​ is nothing less than the distillation of their songwriting spirit. While they started off with a smooth, minimalist sound, their second album added distinguished layers that any muso could appreciate. ​Mind the Moon​ succeeds in embodying this paradox and sees Dausch and Rehbein achieve the transitio​n from a fair​ytale pop phenomenon to the truly gifted songwriters that they've always been. The new tracks are an easy listen with catchy melodies and a laid-back vibe – but there is depth that hooks the listener beyond the first impression. How much depth can a light-hearted pop song actually have? Mind the Moon gives you the answer. Like its forerunner Blossom, the album was produced with Tobias Kuhn.​
Where do Milky Chance fit in the future, you may ask, as they embark on Album no.3. The answer is fairly simple; This album will see them continue to be a singular proposition in a world fall of "The Next (insert name here)." If that all sounds a bit grandiose, just listen to new song ​The Game​ for evidence. The track epitomizes this sound, with a unique and self-evident blend of reggae, chillout and rock. The sounds come together so naturally, as if it's never been any other way. A look at the featured artists on the album alone gives you an idea of the breadth of genres it encompasses. The track Fallen was written in London with the British artist Elderbrook, and pop-gospel fusion track Eden's House features the South African choir Ladysmith Black Mambazo – a group Dausch and Rehbein have admired since their school years.
Their collaboration with ​Tash Sultana ​was no less of a dream come true. The Australian-Maltese singer-songwriter is currently causing a major stir in the world of music, and her vocals on the first single Daydreaming add a truly unique element to the Milky Chance sound. And last but not least, there's Témé Tan, a Belgian artist with Congolese roots. Both ​Témé Tan​ and ​Tash Sultana​ have previously shared line-ups with Milky Chance on tour, and can now be heard performing on their latest album. ​Rush​, recorded with Témé Tan, will also feature on the album.
Dausch and Rehbein split the recording between their own studio – which they built and decked out in Kassel, so they could focus on the music, far from all the hype – and studios around the world. The recording sessions took place in locations ranging from Australia to Italy to Norway. The latter was situated right by the water, just a few meters from the nearest fjord. The ever-present ocean is a constant theme that runs through the new album, reflected in lyrics like "​Thoughts just keep on drowning in my blue mind​" (​Rush) and "​The sea is on the low tide/trouble on the inside​" (​Oh Mama​), and even in the title of the album itself, which venerates the moon and its incredible power to control the tie. A mysterious, ever-present force that is as distant as it is close by.