Power 97 welcomes Steel Panther to the Burton Cummings Theatre on Tuesday, June 18th.
Tickets go on sale Friday February 22nd at 10am.
Get in on the Power 97 pre-sale on Thursday, February 21st from 10am to 10pm. Use code: SPCJKR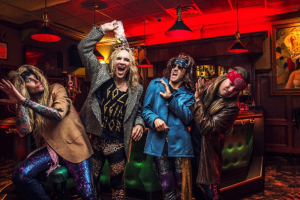 WINNIPEG, February 19, 2019 – Hailing from Los Angeles, the epicenter for rock n' roll in all its debauchery and glamour, Steel Panther has established themselves as the world's premier party band, melding hard rock virtuosity with parody and criminally good looks. And those good looks are making their way to the Burton Cummings Theatre on June 18. Tickets on sale Friday, February 22 at 10 a.m. through ticketmaster.ca.
With three full-length albums, touring across the world, platinum-level YouTube status and high-profile television appearances such as Jimmy Kimmel Live, Larry King Now, and FOX NFL Sunday, the band is touring in support of their upcoming effort, Lower The Bar (Kobalt Music Group). Of their last studio album All You Can Eat, Rolling Stone avowed, "There's a reason Steel Panther have transcended their origins as a cover band playing the Sunset Strip," while Metal Sucks declared, "Steel Panther's concept is genius…their songwriting is…preposterously snappy –and relatable."
Don't miss Steel Panther, June 18 at the Burton Cummings Theatre.
Steel Panther
Official Website: www.steelpantherrocks.com
Official Facebook Page: www.facebook.com/steelpanther
Official Twitter: www.twitter.com/Steel_Panther @Steel_Panther
Official Instagram: www.instagram.com/SteelPanther @SteelPanther
Official YouTube Channel: www.youtube.com/user/SteelPantherVEVO